Office Essentials: How to Bring Personality to Work
Share:
You got your own office! Other than bringing your computer, some networking supplies, and a desk what else do you need?
Here are some of the essentials I think an office needs in order to feel comfortable.
Art work. Big or Small.
This can be a framed photo of your significant other, your dog or cat, children or grandparents - whoever! But it doesn't have to be people. Let your personality reign in the artwork you bring in to your space. Magazine ads are a great, free option. No one will know the difference and you can dress it up with a funky frame. I love ironic, witty art and illustrations. I might DIY a small canvas that says "This is an Original" in black and white and just leave it at that. Typography is also a really great way to add personality and contrast to a new office.
Source: living4design.tumblr.com via Jodi
If you're working in a cooperative office or you're constantly on the move; alternatives to framed artwork for you could be a laptop skin or really bringing out your personality in the small accessories you use every day. Such as: Earbuds. I think these are the best out there, I've tried many varieties of earbuds and these actually block noise, don't leak out what you're listening to and are pretty fun to look at. Unique Laptop Skins. Design your own, show off your personal portfolio or a favorite photo. The options are endless. KnockKnockStuff has some really fun, light hearted material for Office organization or filing. Something to bring a laugh and often times things you say any way, just now a stamp will say it for you, more often.
Paper, notebook or sticky pad.
I don't think it matters how digital or mobile I am. I still find it essential to have a place to jot notes, make lists or just be able to doodle. Having some Washi tape stuck in your drawer or bag could be a great personalization tool as well. Highlighting certain notes or just categorizing in color. If you proof documents the Washi tape can serve as a marker or mediator for the things you want to make sure are changed or redone.
Great Business Cards.
If your place of work doesn't offer you stock business cards (and even if they do) you should have a business card. A calling card, if you will. A heavy weight paper, clean design. Your name Contact (email, twitter, AboutMe, phone) Wesbite Tag-line or personal brand logo, if applicable. A Facebook page should not be on a professional business card, unless you're Facebook. Facebook should be one of those things that's rhetorical and is easily accessible from your website or any other profile that allows you to link to social media.
Source: owltastic.com via Jodi
Offbeat kitchenware.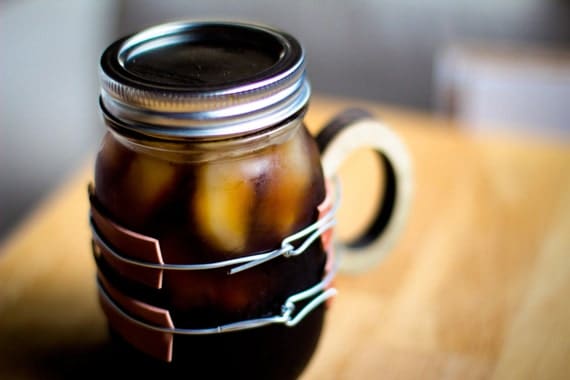 Source: etsy.com
If you don't bring your own mug to the office to stay fueled throughout the day there should always be a backup waiting for you. I personally love the offbeat, creative angle of taking a mason jar and making it something fundamentally it was never meant for. Sometimes the little things really make the biggest impact. Play with them and enjoy the crazy conversations that'll take place because of them.
Creative Lighting.
Source: lampegrasusa.com via Jodi
A dedicated DO space.
Source: google.com via Jodi
Create an area or workspace/desktop where folks can go to DO something. Use their hands, utensils, cutting or chopping. A place to "play" with all the ideas floating through the office. The list could go on and on as there are endless ways to bring your personality to the office and make your space something you feel comfortable in.
What are some of the things you've done to your office or coworking space to bring your style out?
Comments