Thinking Outside of Your Box - Cubicle vs. Open Space
Share:
As Start-Ups and Entrepreneurs are popping up with the help of great local systems such as Start Up Weekend and 5X5 Night the trends for office environments are changing also. A quick search online for some of the most creative office environments, such as Etsy.com and Facebook, show laid back, hipped out, collaborative spaces where your imagination is more important than your punch card.
Etsy Offices:
Facebook Offices: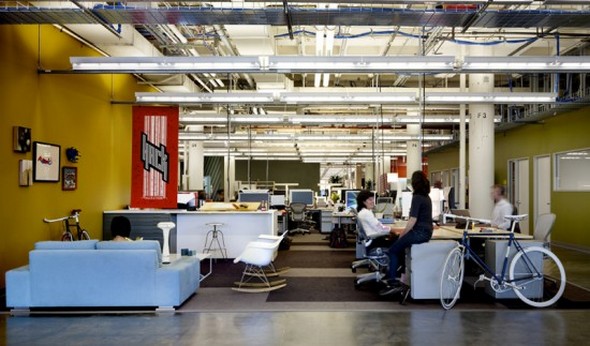 Compared to a Cubical Farm, or what many Corporate Offices with technology based jobs have looked like in the past:
Cubical Farm:
I'd say that the changing trends are welcomed ones. Having various work spaces or zones in an office facilitates mobility. With the endless options and various heights of work surfaces - your Talent can be focused and productive while still being part of the culture.
Standing tables, high chairs, low surface (dining height) tables and chairs or desks, and comfortable seating work zones are just the beginning to an office culture, but a great one.
Get in touch with a Turnstone Representative to discover how you can turn your office into the enterprise of Industry and Movement.
Interested in seamless first steps? If we take our que from the snapshots above of the Facebook and Etsy offices and then look around our own offices it can be easy to get discouraged. Just starting out, we don't always have the vision or budget for a big impact space. That's ok, let's start small.
Instead of a waiting area with stuffy pharmaceutical-like chairs, bring in an overstuffed couch and coffee table. Recreate your living room and thrift the items, it'll add character and charm without busting your shoestring operational bottom line.
Paint a daring accent wall. Easy to change and for under $20 you can add a spark to bare minimum.
Play up your office culture. Which - with 5 employees or less - that culture is made up entirely of the personalities occupying the space. Have someone who really loves Indy music? Abstract art? Bonsai gardens? Ask them to bring their hobby (biking?) into the office and watch the conversations go from "Things to do, projects to complete" to a relationship building foundation for better communication and processes. Your clients and the 'bedside manner' of the face of company generally improves as well.
What are some of the first things you did in your office to bring out the personality of your space or employees?
Comments